11/10:PCA的提名結果出來了,SPN在Favorite sci-fi/fantasy show名列候選,沒有其他項目......接著就是投票啦!透過Twitter一樣做數。
再來就是TV Guide "Hot List 2010"小訪問的掃圖。
另附上"驚鴻一瞥"的視頻~請直接看1:03後......=_=
---
11/9 part 2:613的名稱出來了。
Episode 6.13 - Unforgiven,現在洋妞都在期待會是一部西部片,因為這是一部Clint Eastwood在1992年自導自製自演的反英雄主義西部片名,台灣貌似翻為"殺無赦"。
---
11/9:608預告。
另外,五小時前,約溫哥華當地周一中午時,Jim發了個tweet:
"Jim Beaver First time I've ever had a scene stopped because of hail."
照片中看起來冰雹不太大,不過一定很麻煩吧!沒想到溫哥華十一月的天氣也是如此不穩定......
---
11/6:608搶先看~Sera Gamble妳就盡量摧殘兄弟愛吧!反正劇情於我幾近浮雲了......看妳可以把SPN毀成什麼樣子......(坐沙發捧爆米花喝可樂等著看)
---
11/4:607 Space promo&沒啥新意的sneak peek。
另,已拿到第五季官方手冊的網友們又分享了一些內容:http://community.livejournal.com/spn_gossip/10428.html?thread=75247036#t75247036
---
11/3:官方607的webclip。
另外,TV Guide封面的投票已經結束,看來最終結果還要再一個月(12/6)才能知道。不過,最新一期雜誌裡面的第二頁已經有Jensen囉!:) 雖然是老圖老內容,不過這次有比較詳細,還是很開心,感謝AgtSpooky的分享。<3
BTW,Jensen之前講過的三部喜劇,我喜歡Modern Family和30 Rock,The Office我比較沒fu。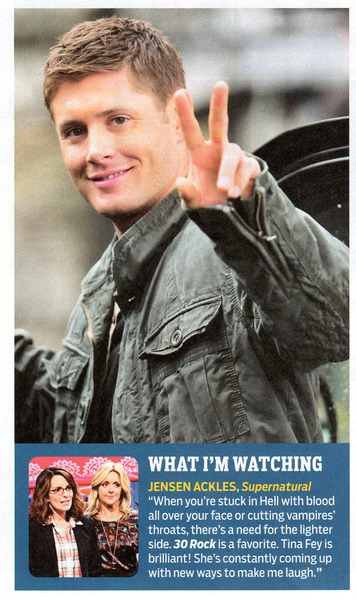 ---
11/2:Gino一天前上傳了Jensen和Danneel全家看Saints球賽的視頻(影片內容為Pregame jam),不過貌似不是最近拍攝的,有網友說是去年Jensen有和他合照那次,但看Danneel的髮型又是最近的......而且Jensen穿著短袖,個人認為應該是今年夏天那段時間吧?!不管了,反正我只要有Jensen可以看就好!BTW,我喜歡那個音樂,還有,Danneel和媽媽長得好像......:p Jensen在46秒後出現~<3 不過之前在背景裡也可以聽到他的聲音,因為她就坐在Gino左邊。;)
CG去SPN拍攝現場蹲點~六小時前(溫哥華周一下午一點多)更新Twitter,還劇透了一下未來的回歸角色:
"canadagraphs Just witnessed Jensen bear hug a crew member and didn't seem like he wanted to let go."
"canadagraphs #Supernatural filming at Jackson and Powell at a store, right now Jensen Ackles is on set"
"canadagraphs Jensen is filming scenes with some actress, dark hair, cute, named Lindsey?"
"canadagraphs its just been scenes of Jensen and this girl talking and walking from what I saw today. 3 diff locations, all the same."
"canadagraphs It is DEFINITELY Lindsey McKeon on the #Supernatural set. Shes wearing exact same outfit as her last appearance. Tessa the reaper is back"
最後,還要請大家在僅剩不多的時間裡,再支持SPN一次:TV Guide雜誌封面票選。感恩!Sera Gamble也有話要對粉絲說:(Credit:'Supernatural' fans vie for magazine cover space: Can they beat 'Chuck'?)
"Hey-- just a quick note on behalf of Bob, Eric, myself, and the whole gang here at Supernatural. We want to thank our incredible fans for your support. We hear you've been keeping us in the running against some very worthy competition. Regardless of what happens, we're deeply touched as always that you've got our backs. (But yeah, of course we'd love to see Jensen and Jared on the cover -- and we think they couldn't deserve it more -- so please do keep voting for 'em.) Thanks again, guys!"


---
11/1:這兩天沒什麼時間更新,好著急啊!!!幸好週末的消息本就不太多......新的一個月又開始了,希望大家生活上都能順順利利,然後開開心心地繼續愛Jensen!:p
1.首先要請大家幫忙繼續支持TV Guide雜誌封面的票選活動,只剩下不到一天的時間,根據最新的更新,SPN落後Chuck位居第二,但差距非常接近,所以請大家努力吧!另外,到時候封面不會用票選頁面上的圖,而是會有新照片,所以不滿意CW宣傳照三人位置的朋友可以放心了。
2.這兩天Jim在Twitter上說他去現場看了美國職棒德州遊騎兵隊的比賽,沒想到Jensen也很關心戰況!:p 幸好最後贏了!!!;) 將客串演出SPN的Robert Englund發了一個tweet:
"RobertBEnglund wrapped SUPERNATURAL. Jensen Ackles is worried about his Texas Rangers. Hope he does't lose his bet. Happy Halloween"
另外,CG在YVR碰到Robert時,他提到了和自己演對手戲的大部分是Jensen:
"canadagraphs Englund said he worked primaraly with Jensen. Never met Jared."
接下來兩則是比較舊的消息~
3.Jensen在Smallville時期的小訪問,談到他的角色。看上傳的日期已是兩年多前,應該有很多人看過了,不過我在視頻方面一向都很懶惰,所以還沒看過,一起分享給和我一樣的朋友!:p
4.日前巴西一個付費頻道出版的名為"Monet"的雜誌,刊出了八頁的SPN報導,圖檔不小,有興趣的人可以看看。:) 封面上的文字翻為英文:"ROCK'N ROLL, HUMOR AND HIT THE ROAD. THE SECRETS OF THE SERIES WITH THE WINCHESTER BROTHERS, WHO GETS THE SIXTH SEASON WITH MORE FANS THAN EVER"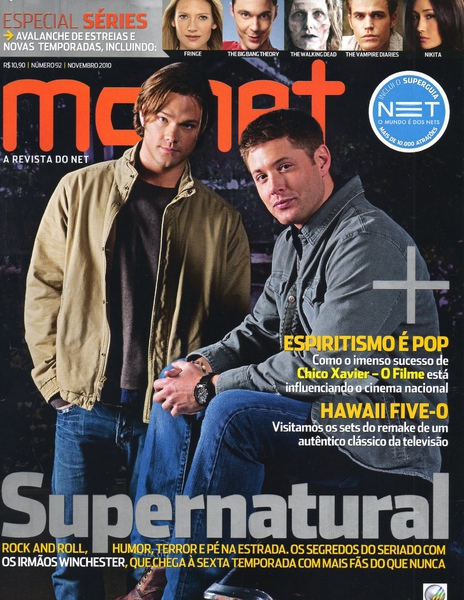 Credit: http://community.livejournal.com/dean_sam/13279655.html?thread=111974567#t111974567